*Note that this article uses assumptions from the 2021-22 financial year. The amount of super that your employer must contribute for you as a minimum has increased since that time and this would affect the outcomes*
There are many reasons you might think about taking time away from work. It's a big, wide world out there and there's a lot to see and do.
You could be considering having children, volunteering, taking a year off to write that novel, or perhaps you're thinking about study or taking on caring responsibilities.
Whatever your reason, don't leave your super to fall behind while you are out exploring new experiences.
If you are 45, have $300,000 in super and earn $120,000 a year, taking a year off work without pay now (and without the corresponding contributions to your super) could mean you have over $17,000 less in your super by the time you reach 65.*
What can you do about it?
As you start planning time away from work, consider whether it might suit you to contribute extra to super in the lead up to your work break. The sooner you start making additional payments into super, the longer that money has to compound and grow. Your super can be growing and expanding at the same time as you are out growing and expanding your life.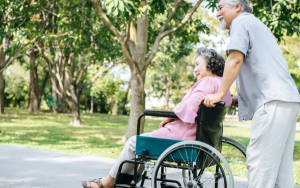 If you're considering what a break from work might do to your super, try our online Super Calculator. It's a dynamic, interactive tool that lets you test different scenarios in the safety of an online calculator. See what happens if you contribute more or less, change salary, take a career break, retire earlier or later and so much more.
And, as always, if you need any help with the Retirement Planner or any aspect of your superannuation you can always call us on 1300 307 844 or make an appointment to meet with one of our Member Services Team. We can meet you at your workplace, at our offices in the Adelaide CBD or anywhere that suits you. Book a free appointment easily online.
Assumptions
Regular super guarantee from your employer: 10% ($12,000 a year); average return of 7.6% on your super investments until age 65. Fees 1.57%, insurance premium $400, CPI 2.1%, improvement in living standards 1.1%