Divorce and separation
Divorce and separation are not jolly topics to discuss, but if you and your partner are going through, or have gone through, this process, being well-informed about what it means for your super and your future is an empowering step. The below information will give you some information to help you consider the effect of divorce and separation.
You can read more about the process of going through a family split of your super, including what's required and who is responsible for what steps, in our blog post, 'Splitting Super in a Divorce or Separation'.
Once the dust has settled and the assets of the relationship are divided up according to your agreement or court order, it's time to start getting back on your feet. Even if you were completely prepared for, or the instigator of, the separation or divorce, it's still a big event in your life and can take some time to get things back on track.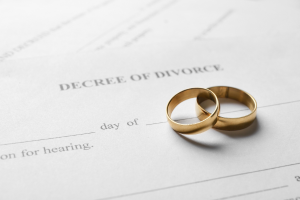 Steps you can take
The first thing to do is take stock of where you are now.
Again, whether splitting up was your idea or came as a complete shock, there is still emotional fallout from separating or divorcing.
It can feel hard to take the next steps towards a positive future while you are still dealing with emotions such as grief, sadness, anger, blame and more. Everyone will experience the loss of a significant relationship differently. Whatever your experience, it's vital to make sure you have supportive, caring people around you. This could be friends or family, as well as the services of a professional counsellor or psychologist. There is no shame in seeking out the support of a professional to help you see things clearly and start to move forward.
Beyond Blue has good resources to support you if you or a family member isn't managing with the divorce and change to family dynamics, including online forums, a Family Relationship Advice phone line and webpage and more. Find all the details on the Beyond Blue website.
Depending on the way the relationship ended, you might not have had the capacity to set yourself up in a comfortable, permanent home yet. You may have moved in with a friend or family member, or into other accommodation to bridge the gap.
If your current housing arrangement is temporary, could you think about buying a house or renting a more permanent home?
Speak to a loan broker to find out your financial capacity to buy a home or to a real estate agent regarding properties available in your price bracket, if you will be renting.
Child support; whether you're the one paying it or the one receiving it, it's a rare couple who can work it out so that everyone feels like the arrangement is fair and equitable. Be aware that this may be a sore point for either or both parties. It can also become a sensitive point for the kids as they process what's going on for them.
If your kids are smaller, will you have enough financial resources to provide things like school excursions or clothing? Will your children need to change schools? If they're in private school now, can this continue? Have you put any thought into what happens when your kids turn 18? Or what you plan to do if they go on to tertiary education?
You may or may not have had to split your super as part of your settlement. Some couples split other assets so that neither has to split their super with their ex.
Whether you had to split some of your super or not, be aware that your super now needs to support you in your retirement.
The requirements for a single person in retirement is around 70% of the requirements of a couple. That means your super balance at retirement will need to be higher than it would have been when you were half of a couple to allow you to live the same retirement lifestyle.
What's your super today?
Check your balance in the secure area of the website. Then see our Am I On Track page to find out if you are on track to achieve a 'comfortable retirement'