We understand that it's vitally important to make financial plans for your future after you've finished employment. But what about planning for making sure you are strong in other areas of your life? Being positive as you age can be supported by caring for your health, understanding aged care and connecting to community. You may feel more positive about ageing by taking steps to help you stay healthy and independent for longer.
You can read more about steps to a healthy retirement on our website.
Make plans for your health
Taking steps to look after your body and mind improves the chance of preventing many diseases and staying happy.
The Australian Government's Department of Health and Aged Care website has a pile of resources to help you. They have information about aged care and positive ageing. You can use them to find out more about the many different aspects of looking after your health:
Physical exercise
1 in 2 adults don't meet the government's physical activity guidelines*. For people aged 65 and older, the Department of Health and Aged Care recommends at least 30 minutes of moderate intensity physical activity on most, if not all, days. They suggest that if 30 minutes is too hard now, start with 10 minutes once or twice a day and increase to 15 minutes twice a day in 2 weeks when you are feeling fitter.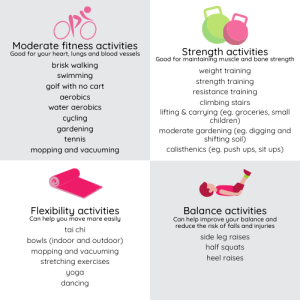 The Department says that if you can do more than 30 minutes, you will get extra benefits. They recommend to try to incorporate different types of activities and to break up the time you spend sitting down as often as you can.
However, they also recommend that if you have health problems, talk to your doctor about the kind of activity that suits you, your health and your lifestyle.
Nutrition
There are many tips to help you eat better, thanks to the Department of Health and Aged Care. They have tips on what your body needs and how to make healthier food choices, whether you are eating in or going out to eat.
If you are looking for ideas, the Department of Health and Aged Care is a great place to start.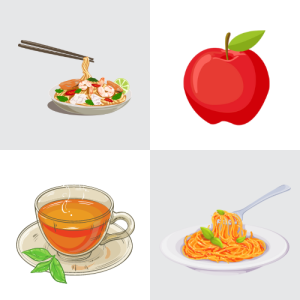 Mental health
Taking care of your mental health is a lifelong activity. People at any age can experience mental ill-health and almost half of all Australian adults will experience mental ill-health at some time in their lives.
Good mental health helps you cope well with normal life stressors, relate well with other people and contribute to your community.
Find out more about the resources available on the Department of Health and Aged Care's website.
Preventative health
Taking steps to look after your body and mind now can help keep you healthy well into the future. Staying active, eating well, having the recommended vaccines and avoiding risky behaviours (like smoking or drinking too much) are important in maintaining good health.
Download the Choose Health: Be Active booklet for tips and ideas.
Read more about the Department of Health and Aged Care's work to support preventative health.
You should speak to your doctor or other health professional before making changes to your activity level and you need to consider whether this information is relevant to you. It is provided for general information only.
*Sources: AIHW and ABS